President's Highlights of the Montreal Colloquium
IWG on the ratification of the convention on the international effects of judicial sales of ships.
Our IWG was in full force in Montreal planning the next stage of this exciting project. Now that the Convention has been adopted by the General
Assembly of the UN we look forward to the signing ceremony in Beijing and we are working towards encouraging as many ratifications as possible.
CMI EXCO Meeting in Montreal
It was a great pleasure to welcome all EXCO members to our meeting in Montreal where we spent the day going through a challenging agenda. This is one of 3 EXCO meetings held every year. The first was virtual held in April and the next one will also be virtual in October.
CMI Montreal Colloquium opening reception
My pleasure to welcome all the delegates who came from far and wide to our opening reception. Thank you Montreal for providing a stunning venue.
With my two vice presidents Dieter Swampe and John O'Connor and with Capt.Mak and Shweata Mishra from Bangladesh – the Bangladeshi MLA will be joining our CMI family this year.
Opening session at the CMI Montreal Colloquium
I had the pleasure and privilege of officially opening the Montreal Colloquium followed by speeches from Paul Harquil President of the Canadian MLA, Mr. Kitak Lim, Secretary General of the IMO, the Honourable Mr. Omar Alghabra, Minister of Transportation Canada and the Berlingieri Lecture delivered by the Honourable Sean J. Harrington, former Judge of the Federal Court of Canada.
Day 1 CMI Montreal Colloquium
Day 1 saw really stimulating discussions and debate on The Convention on the International Effects of Judicial Sales of Ships, Climate change -Impact on Ports and Inland Waterways, Promoting and Enforcing Ethics and Diversity in the Maritime Legal Community, MASS, Mobile Offshore Renewables Units, Arctic Shipping, Harmonising the interpretation of Article 4 of LLMC 76.
Day 2 CMI Montreal Colloquium
Day 2 of the Montreal Colloquium saw more top quality sessions on a variety of topics including Lex Maritima and Cyber threat in the maritime sector and Collisions and the responsibilities and liabilities of the master.
Throughout the afternoon, the General Assembly took place. Among the highlights were the admission of the Bangladeshi Maritime Law Association as a member of CMI; the conferment of President Honoris Causa on Stuart Hetherington, Vice President Honoris Causa on Johanne Gauthier and Secretary General Honoris Causa on Alexander von Ziegler; and the award of the Young CMI Essay Prize 2022 to Rosalie van Diel for her Essay Relief in Cross-Border Insolvency and Maritime Law.
At the end of the Assembly the CMI flag was cerimoniously given by Rui Fernandez incoming President of the Canadian Maritime Law Association to Paula Backden President of the Swedish Maritime Law Association. We will be in Gothenburg next year!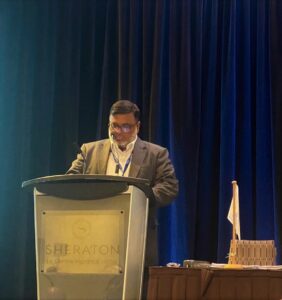 President's Report presented throughout the General Assembly
Presidents Report At The GA In Montreal
Attachments to the Report 
Lloyds List IMO Jud Sales 31 3 23
Lloyds List Most Influential People
MLT SYMPOSIUM Lloyds List 27 4 23
MLT SymposiumLloyds List 26 4 23
Presidents Report At The GA In Montreal
Ship Management November Issue
Times Of Malta MLT Symposium 26 4 23
Trade Winds Antwerp Colloquium 19 10 22